Website accessibility
ACCESSIBILITY STATEMENT
I have tried to layout the text within Moodle and create the resources for this website with the needs of those with visual disabilities using a text reader in mind. In the event that you have any access issues or suggestions concerning my site, and would like to bring them to my attention please e-mail me. Contact details are on the
home page
or at the bottom of this page.
Thank you
Sarah Hackett
---
CHANGING FEATURES IN YOUR CHOSEN WEB BROWSER


If you suffer from a visual disability, the ability to switch off design features may help you access the content of this site more easily. Please follow the instructions given below for your chosen web browser.
Mozilla Firefox Users
(Version 1.5+)
Select view > Page Style > No Style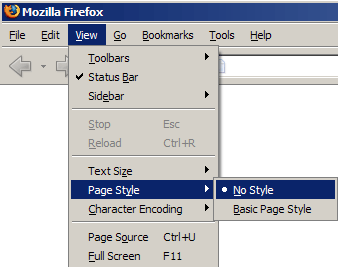 ---
Internet Explorer Users
(Version 6+)
Select Tools > Internet Options > General tab > Accessibility
Tick any or all of the three check boxes as required.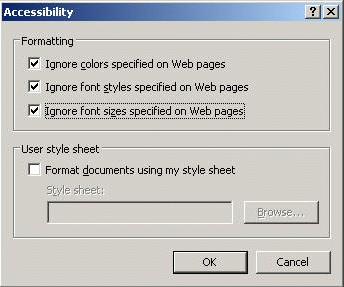 You may also apply your own 'user' style sheet.
---
Netscape Users
(Version 7+)
Select Edit > Preferences and double-click 'Appearance'
Specify your preferred colour/font requirements.
---
Opera Users
(Version 8+)
Select View > Style and click 'User Mode'
Then select display settings as required from the choices offered.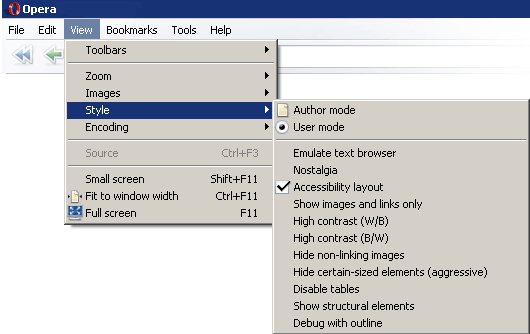 For Opera 'voice' options please see your browser 'Help' files or visit the Opera Website:
http://www.opera.com/products/desktop/
---
Mac Safari Users

Resize text at will - see manufacturer's guidance:
http://www.apple.com/safari/features.html
If you are using a Mac then there are built in technologies to help
http://www.apple.com/accessibility/macosx/vision.html
---
E-mail:
folkgroupATicon-is.co.uk

please replace the AT with @
Thank you
Sarah Hackett
www.lol4life.co.uk

Last modified: Friday, 18 April 2014, 6:28 PM